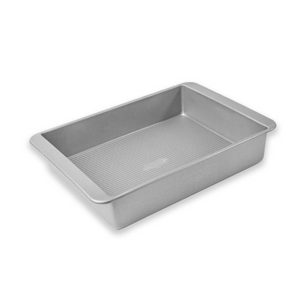 Strong and durable pans that are versatile for any recipe
Easy clean up with our non-stick coating: FDA approved for safe contact with food
Limited Lifetime Warranty for the life of your use
Same rust proof design used in professional bakeries
The pan baking surface is perfectly designed for placing 6 lasagna noodles across the bottom and the pan can be filled with nearly two full 1 pound boxes of oven ready, no boil, or regular lasagna noodles for a hearty lasagna.
Easy grip handles make the pan very easy to pull out of the oven
Unique, ridged texture, facilitates even air circulation and heat distribution
Pan made in USA from globally sourced materials

Baking Surface Dimensions :13.75 x 10.375 x 3 inches

Outer Dimensions: 16 x 10.875 x 3 inches

Material: Aluminized Steel

Product Description: The USA PAN®'s Lasagna Pan provides home bakers with an easy way to bake warm, mouth-watering homemade lasagnas. Bring a perfect smile to the whole family with traditional or modern casseroles, brownies, lasagnas, baked zitis, and more. Whether you are baking a delicious six cheese lasagna for a dinner with friends or just want a quick and easy way to have a warm, home cooked meal, the USA PAN® Lasagna Pan is the perfect pan for you. USA PAN®'s professional grade bakeware helps everyday home bakers produce professional grade baked goods. USA PAN® is a Bundy Family owned company, based in the Greater Pittsburgh, Pennsylvania area.